Packing Services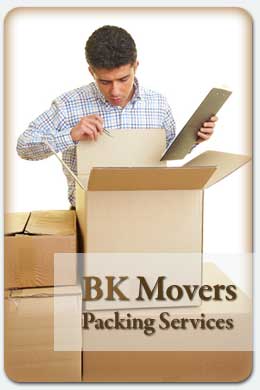 BK Movers provides you with packing services. We can happily carry out all your packing requirements. Do you have Valuable items, Crystal, Fragile Goods?
Let us take the worry out of your move for you.
As you know, there are correct methods engaged in making sure all items are packed to assure your goods arrive intact.
Your BK Movers furniture removalist will know the right method, as we have been trained in the correct procedure, and this should ensure your goods will arrive in one piece.
Unpacking Service
Professional unpacking services involve the removal of your goods from cartons and boxes onto a flat surface in your new home or office and placing all your goods in the correct location you want. Then removing and disposing compressed cartons and packing materials. Ask us for more details on the availability of an unpacking service.
Call now for your for your friendly free packing service quote
If you choose to do your own packing, you will want some helpful advice.
Helpful Hints
One of the most difficult things you will have to do as a client, who has contacted a removalist to pack your belongings, is to trust that they will do it correctly.
One Month before you move
Pick up a change of address kit from New Zealand Post and complete. Have a look around the house and think about what you don't want to take with you. Prepare a list of what you want moved and where.
Packing Materials you will need
Standard Cartons
Book Cartons
Tape
Packing Paper
Marking Pens
Bubble wrap, Stretch wrap
Organise to pick up your important records. Pack your essential documents in one place.
Two weeks before you move
Make arrangements to disconnect utilities. Do meter readings and give new address for accounts. Organise cleaning.
When you are packing yourself
The fee we offer gives you motivation to be packed-up ready and organised on the day of your move. The more organised you are on the day of the removal the quicker and thus cheaper the move will be.
Some of these tips may seem like common sense, but they are often forgotten during a move. If you have any questions please call us and we will assist you in any way we can.
Start by packing items you do not use every day.
Pack-up your boxes and stack together and ready to go.
Have beds, cots, dryers, washing machines and furniture dismantled and ready to go remembering to put the bolts and fittings in a plastic bag and fasten with tape so it will be safe.
Tape keys in a secure place.
When packing, use the correct Removals Boxes as they are designed for moving.
Clearly mark each box, showing which room it should go. Label fragile boxes boldly so we will top load.
Cloth or leather items should be covered with protective plastic to prevent stains or damage.
Carpet and Rugs should be cleaned before the move.
Remove globes and shades from all lamps. Lamp shades should be packed separately in a strong box. To protect wrap them in bubble wrap. As packing use butchers paper rather than newspaper as ink makes items very dirty and dusty.
Glass tables and glass doors on furniture should be wrapped with stretch wrap or bubble wrap for safe transport.
Dry and tinned foods may be moved as long as they are packed in a strong box.
Food stuffs are not to be moved into storage.
Hazardous materials cannot be moved or stored. We are not permitted to carry gas bottles.
Lawnmowers and other gear with fuel must be completely drained prior to removal.
Drawers in furniture should be cleared of heavy items. Light clothing only may be left in sturdy furniture.
Appliances should be disconnected prior to your removalist team arriving. Also, take down shelves, light fixtures etc if applicable.
Pack biggest and heaviest items in bottom of box first. Books and other heavy items should be packed in small boxes.
Large mirrors or pictures should be wrapped individually, covering both sides with bubble wrap or stretch wrap then fasten with tape.
Items should be packed in boxes that are the proper size. If there is empty space in the box use butchers paper to fill the little gaps.
Small appliances and electronics should be packed in the boxes they came in when possible.
Dishes and glassware you should use butchers paper. Pack dishes on their sides.
Fridge drip trays should be drained.
Wrap sharp tools with care to prevent injury.
Ensure adequate parking is available for the removalist truck.
We recommend that clothing be packed in wardrobe boxes. Fill the bottom of the boxes with lightweight items.
Important
Specialist furniture removals requires special handling, when you have items such as pianos, pool tables, Spa baths and heavy tables ask your removalist how to prepare for these appliances.